14 Oct 2022
Complementary Webinar: Decarbonisation, Circularity & the Life Cycle Approach in Practice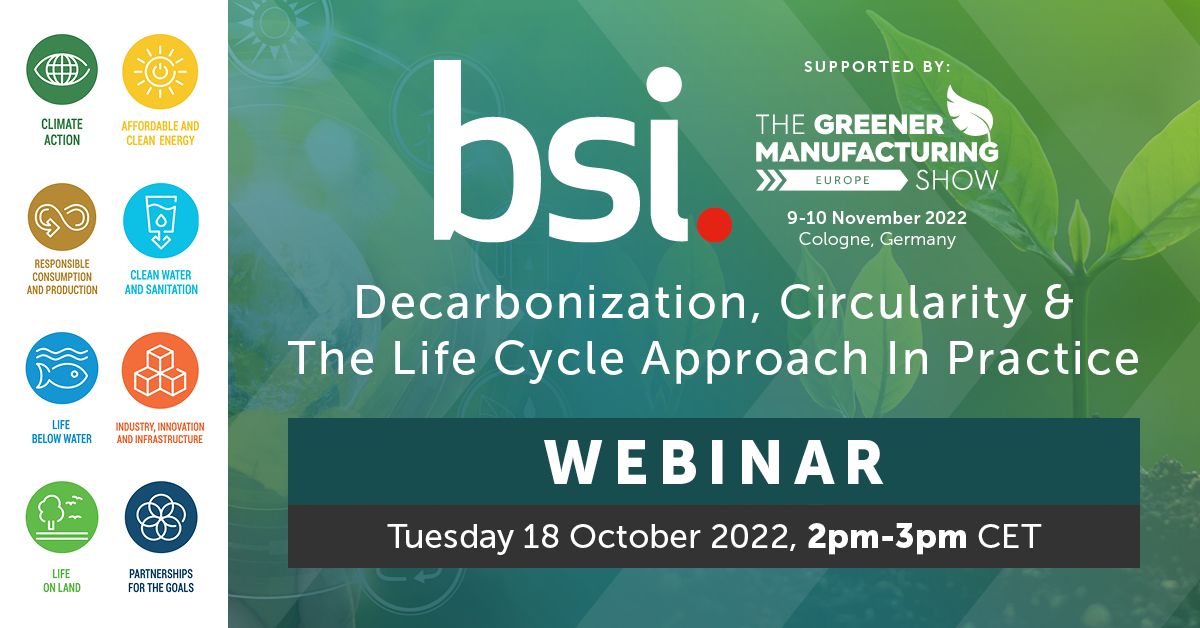 With an ever-increasing focus on ensuring sustainability across a product's life span, from cradle to grave, and across the value chain, The Greeer Manufacturing Show in partnership with BSI are bringing you a free webinar which aims to present a case study exemplifying best practice.
Because at The Greener Manufacturing Show Europe 2022 (on 9-10 November, Koelnmesse Cologne, Germany) we strive to present you with solutions to reduce your environmental impact and build resilience whilst increasing your business value, we teamed up with BSI Group who will share their extensive experience in enabling companies to achieve sustainable environmental, social, and economic value as we explore:
· Drivers, trends, key actions, challenges and exciting opportunities to embed responsible consumption, circularity and carbon management into your organisation. The Scope 3 challenge
· How a Life Cycle Approach can help to obtain a more detailed analysis of the environmental impacts of products and activities.
· Hear a real-life case study and experience how one organisation tackled the challenge and maximize opportunities
· Learn about BSI and how a trusted partner can support your journey. Learn about the new kitemark on sustainable packaging
The session will conclude with a round table discussion and Q&A.
Join the discussion with Expert Speakers
Ryan Lynch - Associate Director,  BSI Group - Professional Services
Khairul Nizam - Global Scheme Owner, Sustainability & Traceability,  BSI Group - BSI Group Assurance
Steve Haskew - Director of Sustainability & Client Engagement - Circular Computing
Moderators:
Joanna Griffith - Global Food Community Director
Federica Pagnuzzato – Sustainability Director Continental Europe
Register here: https://page.bsigroup.com/l/73472/2022-10-04/28vy6fn
Don't worry, if you are unable to attend live, we will send you the recording.