15 Nov 2023
Huhtamaki develops new method of creating egg cartons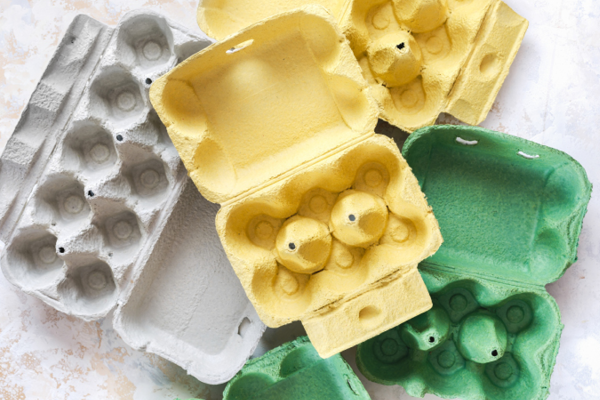 Huhtamaki is the company who manufactured Chinet® tableware and who has over 100 years of experience of working with moulded fibre packaging technology. The company's most recent development focuses on a new method for packaging eggs, which switches foam for fibre.
Huhtamaki's market is directly focused on U.S. industries and U.S. consumers who currently only have eggs which are packaged with cartons manufactured out of foam. This is very bad for the environment as it is a single-use plastic and it significantly contributes to carbon emissions and there is a definite need to reduce the carbon footprint created by these cartons. Therefore, Huhtamaki researched and experimented and has created a fibre-based egg packaging method, which is manufactured out of 100% recycled material. This new packaging will soon be launched to US egg producers, to provide them with an alternative packaging method, which is as safe for the food as it is required to be, whilst also being much more environmentally friendly.
This new packaging development has arrived at the same time at which twelve states have announced that there will be bans put in place around the use of expanded polystyrene packaging. This includes things like coolers, food service cups and plates, egg packaging and 'peanuts' which are used for things such as packing.
Due to this ban, there will soon be a rising demand for alternative materials to use in place of the polystyrene, one of these will be egg producers who will need a packaging material in order to continue supplying their eggs. This timeline suits Huhtamaki's development timeline exactly as in 2022, Huhtamaki invested $100 million into a 250,000-square-foot expansion of its Hammond, Indiana, moulded fibre manufacturing plant. This means that the now operational plant, which includes all of Huhtamaki's state-of-the-art technology will have the ability to provide a full range of customisable egg cartons. These will meet the demand from companies and consumers as the egg cartons will be fibre-based and manufactured from 100% recycled North American materials. Another advantage of the cartons is that they will provide companies with plenty of branding space, as well as a selection of colours to choose from. The cartons will be manufactured out of North American materials due to the investment into the North American market Huhtamaki has made. This investment emphasises Huhtamaki's dedication to manufacturing packaging with three keys factors in mind, these are, the optimisation of material use, the development of sustainable options, and providing fit-for-purpose packaging which aids and encourage the transition to a circular economy.
The Sales Manager for Huhtamaki North America, Tyler Hodges commented, "We expect the demand for egg packaging in the USA to reach 4.3 billion packs in 2025. The market size presents a great opportunity for the egg producers looking to shift to fibre-based egg packaging ahead of legislation and bans on polystyrene foam packaging. Huhtamaki's experience with moulded fibre product design and operations is extensive worldwide, and we will fully leverage this for the needs of the US market."
CEO of Farmers Hen House, Ryan Miller, added, "We are pleased to work with Huhtamaki since we are aligned with their vision to protect food, people, and the planet. One of the pillars of our business is to be good stewards of the environment, our farmers, and the community. For us, this includes sustainable packaging. It is simply the right thing to do."